10 Christmas tree trends and decoration styles that are set to be big for 2023
Check out our round-up of the top Christmas tree trends this year including colour themes, baubles, decorations and light styles.
It's the most wonderful time of the year, and if you're ready to spread holiday cheer by decking the halls and dressing your tree to the nines, then you'll want to know about the top Christmas tree trends for 2023.

When it comes to Christmas tree ideas, we're not suggesting a complete overhaul of decorations and baubles. However, knowing what trends are popular can help give your tree a little refresh and make it stand out.

While most of us think of Christmas tree trends as involving real or artificial trees in our living spaces, outdoor Christmas decorating ideas are becoming increasingly popular as well. There's been an uptick in outdoor decorating in recent years due to spending more time outside and the desire to bring festive cheer to the exterior of our homes.

Whether you choose to decorate indoors or outdoors, here are the top Christmas tree trends to keep in mind for 2023.

---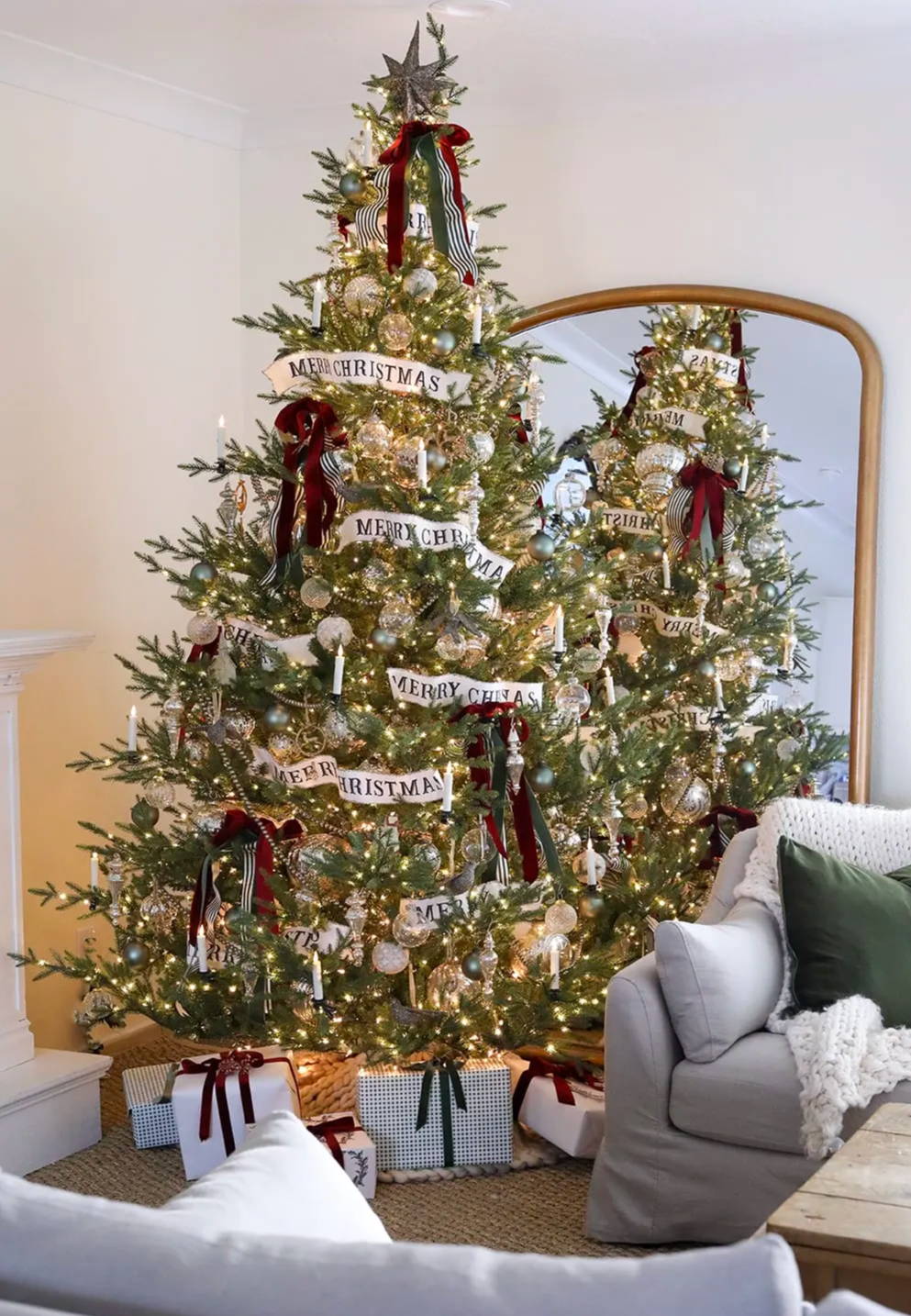 (Image credit: Ella Claire & Co.)
Everything old is new again, and we predict that vintage-inspired Christmas trees will be a big trend in 2023. Look for trees with retro ornaments, tinsel, and even classic bubble lights.
---
2. None Traditional Colours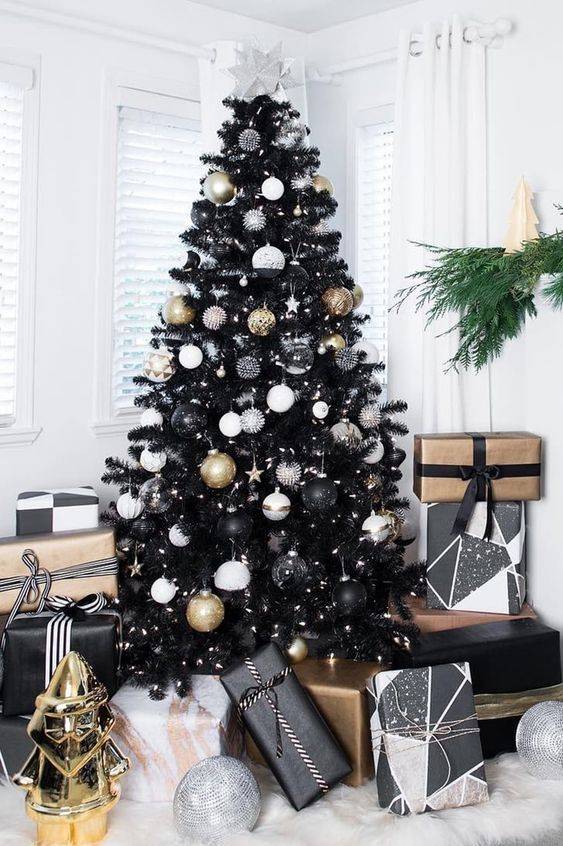 (Image credit: Christmas Tree World)
In recent years, we have seen a trend toward non-traditional colors for Christmas decorations, and this trend is expected to continue into 2023. Add shades of metallics like silver, black and gold to give your Christmas tree that extra wow-factor.
---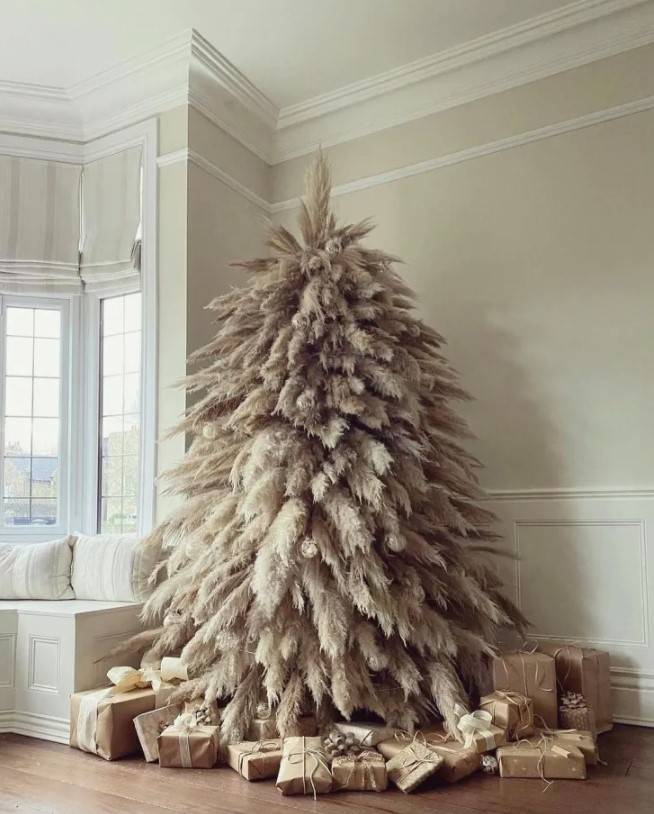 Move away from traditional green trees and create something elegant and stylish with pre-lit pampas and dried flowers. Hang baubles in muted colours like bronze, copper and champagne.
---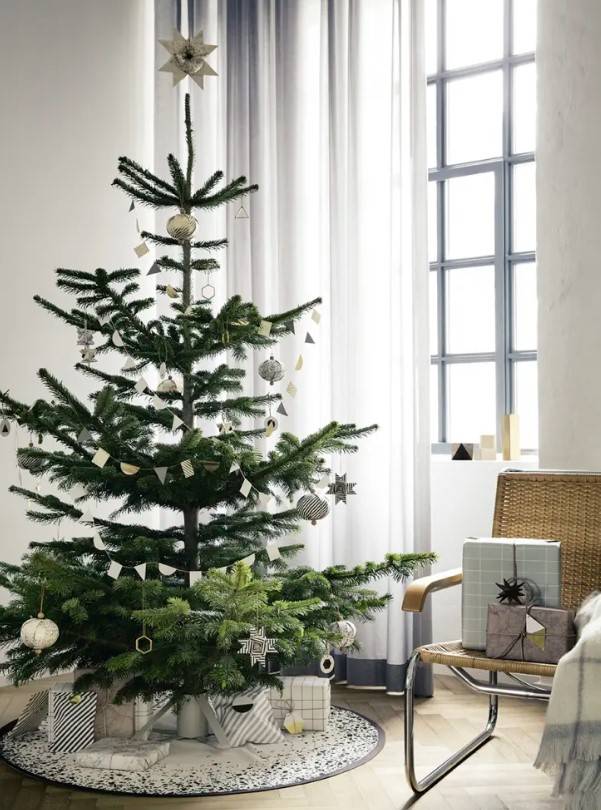 (Image credit: Burke Decor)
For those who prefer a more minimalist aesthetic, opt for a more understated look this Christmas. Think sparse branches, minimal decorations, and a focus on the natural beauty of the tree itself. Want a little decoration? Stars are a great shape to use on your tree as they are festive yet unfussy. Dot just few oversized stars across your tree and even forgo the fairy lights if you're after a really simple look.
---
(Image credit: Up To Date Interiors)
If you're a fan of the botanical look, then dressing your tree with florals might be right up your street. There is no hard and fast rule that you have hang baubles on your tree at all, inject sprays of faux florals into your tree to create a stunning centerpiece in your living room.
---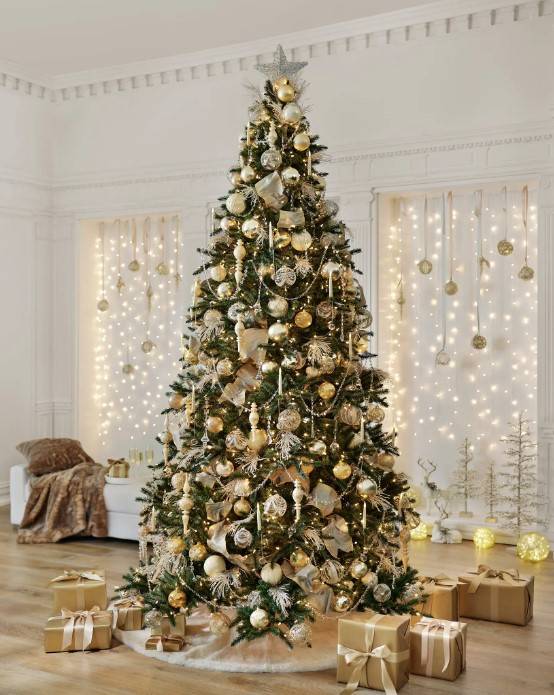 (Image credit: Balsam Hill)
For this look layer antique golds with vintage-inspired designs, a dusting of glitter and a sprinkle of sparkle, brings a glamorous touch to this ultra luxe theme. Opting to just one single colour family makes a magical display that is timeless and grown-up. Go all out with a gold tree! Or if you have a tree already, just stick to gold and metallic decorations.
---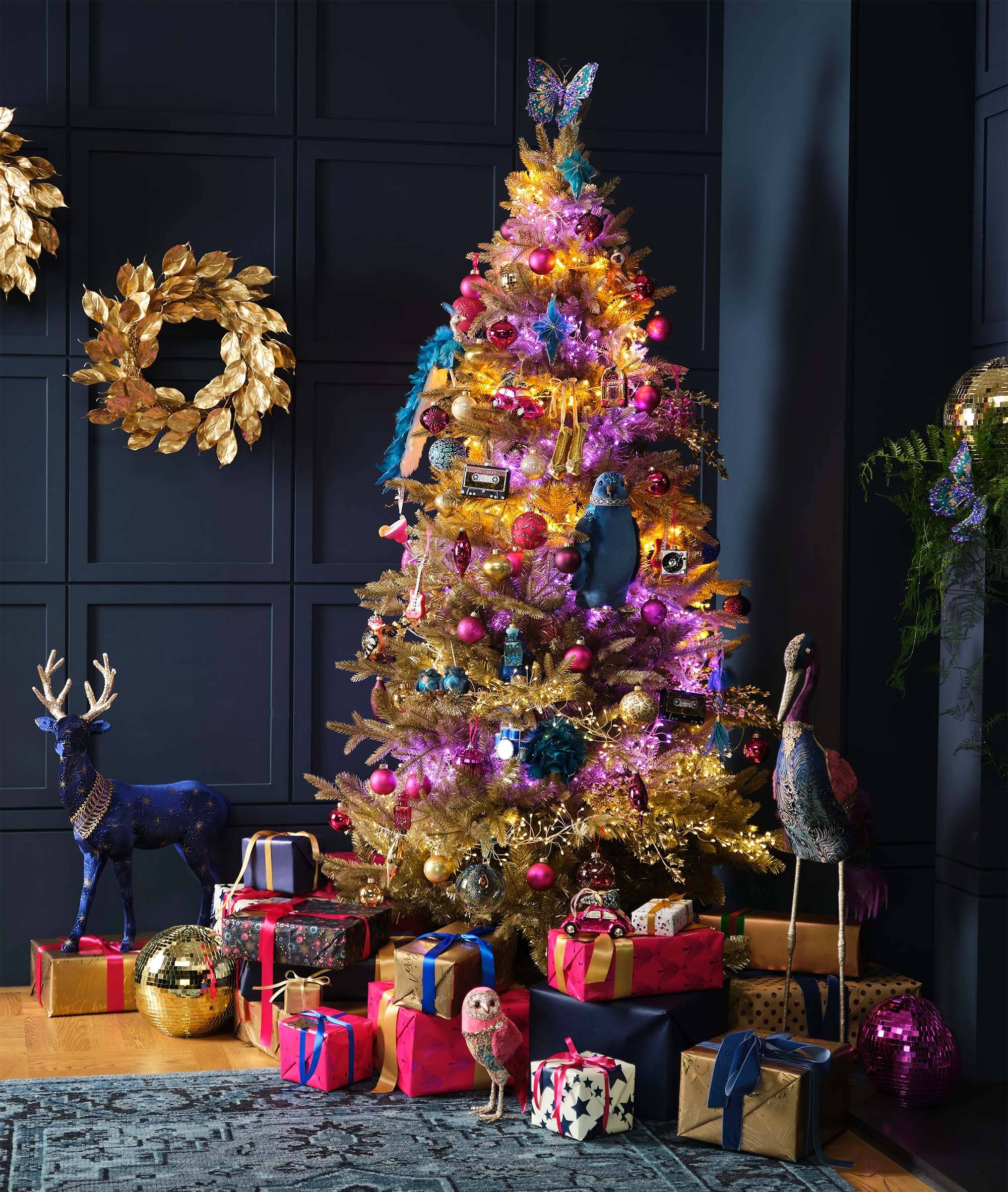 (Image credit: John Lewis)
Add bold and unapologetic flair to your tree with statement baubles and neon lights. Mix in plain decorations to make the fun shapes stand out. Pop plain decorations in there too, so the fun shapes shine. This trend is playful and a great way to express how colour can add warmth and happiness to our homes.
---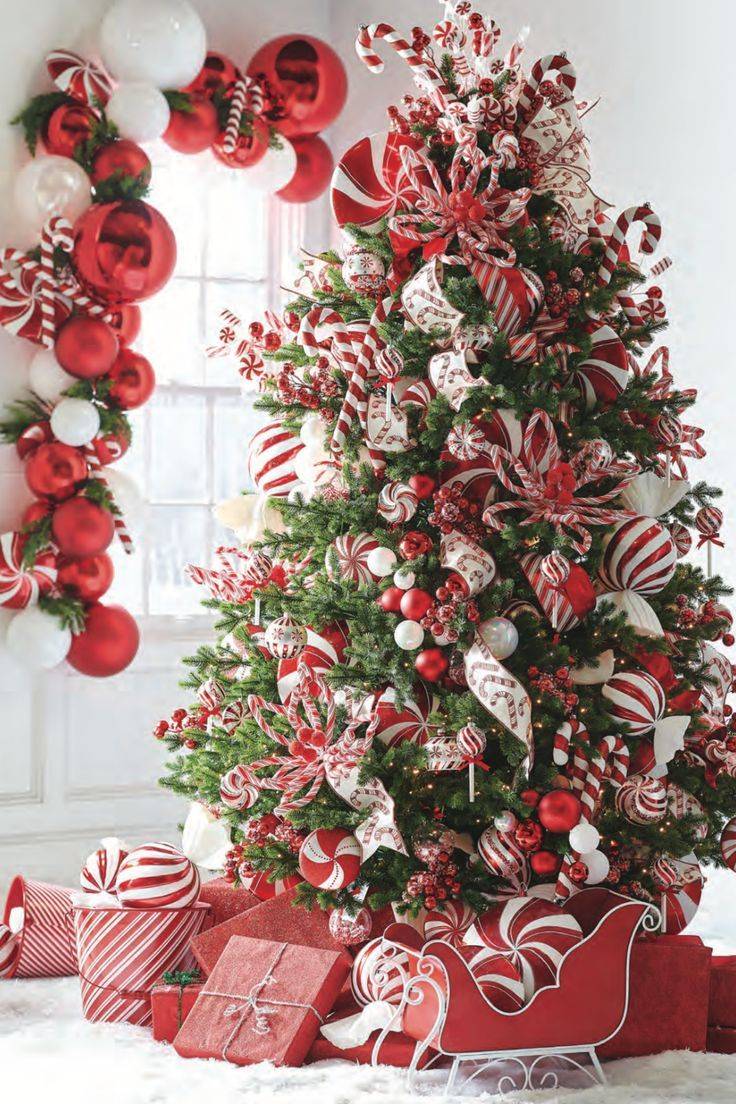 (Image credit: Jeanniepence)
Bright colors can have a powerful positive effect on our psyche. This playful and mood-boosting Christmas aesthetic reminds us to celebrate in ways that bring us happiness. Merriment to the Max is filled with traditional icons in re-imagined styles. "Peppermints, candy canes, and gingerbread are among the most classic holiday icons.
---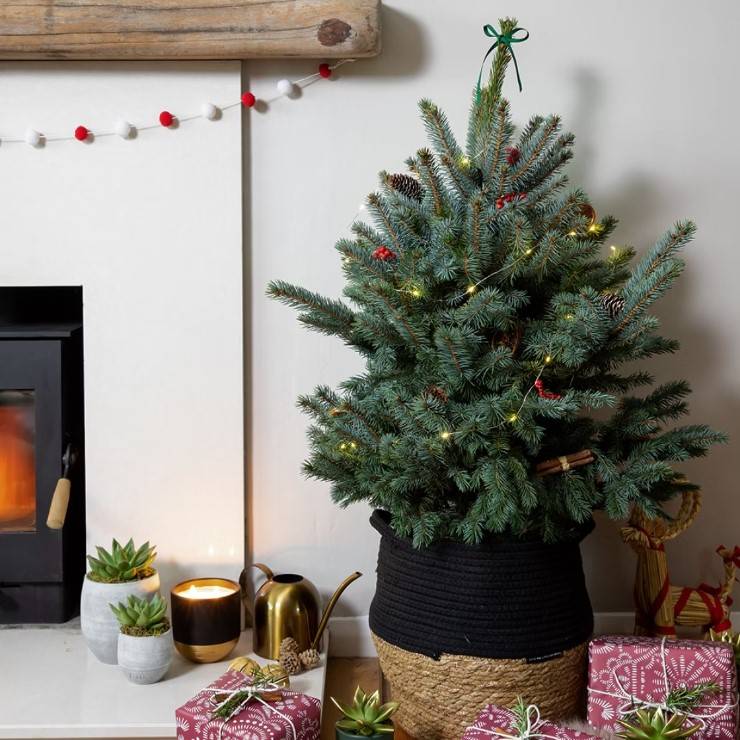 (Image credit: Stylist.co.uk)
Nature continues to play a big role in home design as we look ahead to next year and Christmas is no different. A mainstay in our humble abodes, natural elements including plants, botanical prints, and colors are not going away anytime soon
---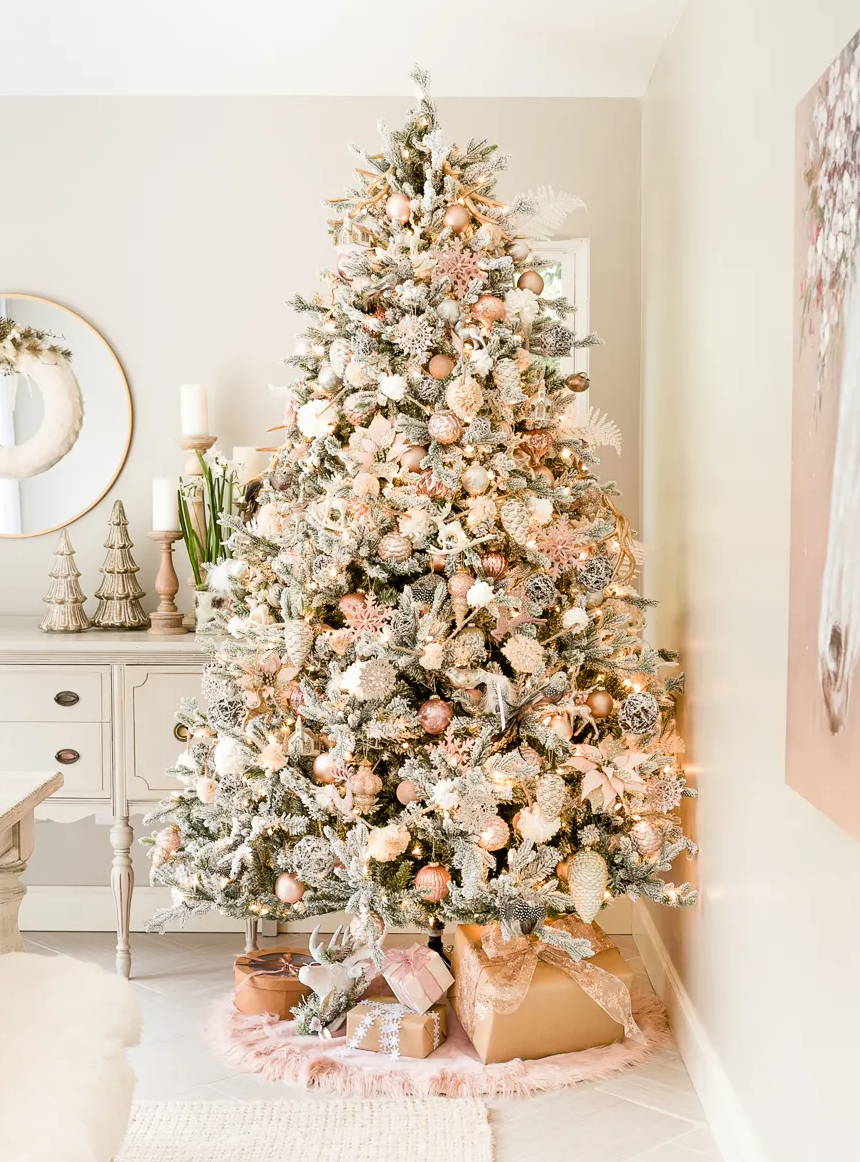 (Image credit: Home Stories A to Z)
This elegant trend is perfect for those who like a polished, yet pretty look in their homes. Think soft pinks, peaches and champagne, with touches of pale green and sage. Opting for pale coloured decorations will ensure they really pop against the forest green of your tree, whether fresh or faux. And choosing that tree is a bit of an art in itself.
---